Party Game Coordinators
Call – (800) 731-7943
Party Planners Los Angeles

Hiring professional game coordinators could be the perfect addition to any Family Reunion, Corporate Picnic or Birthday festivities. We have male or female Game Coordinators, who come equipped with an array of outdoor games & activities for all ages.
Please contact us for additional details and pricing.

Party Game Coordinator games include:
◆ Football scrimmage/game
◆ Football Q&A on rules/regulations
◆ Punt, Pass, and Kick contest
◆ Basketball scrimmage/game
◆ Basketball Q&A on rules/regulations
◆ Tug of War
◆ Freeze Tag
◆ Sack Races
◆ Relay Races
◆ Shuttle Races
◆ Capture the Flag
◆ Super Duper Obstacle Course
◆ Water Balloon Toss
◆ Water Balloon Fights
Kid's party Game Coordinators
We offer "the best" in kid's party game coordinating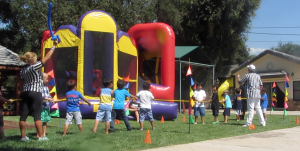 Kid's Dance Party Game Coordinators